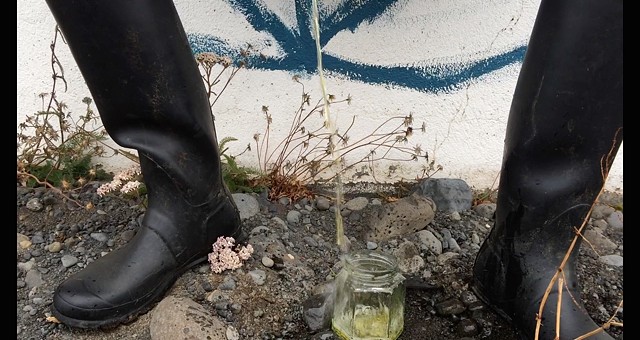 Stay tuned for a new website with current work, forthcoming. Please view recent content by clicking on the News section.
Français suit la version l'anglais//
EN
WhiteFeather Hunter is a multiple award-winning Canadian artist and scholar, as well as an educator, arts administrator, curator and writer.
She holds an MFA in Fibres and Material Practices from Concordia University and presents her work internationally, most recently at Ars Electronica (AT), transmediale (DE), University of the Arts Helsinki (FI), KIKK Festival (BE), Iceland Academy of the Arts (IS) and various North American cities.
WhiteFeather positions her BioArt practice within the context of craft and feminist witchcraft, via material investigations of the aesthetic and technological potential of bodily and vital materials. She hacks/builds electronics, uses web-based platforms to generate new mythologies, works in narrative video, and performance as embodied research.
WhiteFeather served as Principal Investigator and Technician for the Speculative Life BioLab within the Milieux Institute for Arts, Culture and Technology at Concordia University for the last two years, and has concurrently worked for the last year as Artist-in-Residence at Université de Sherbrooke Faculty of Engineering through Sporobole centre en art actuel, in collaboration with Dr Denis Groleau, Tier 1 Canada Research Chair in Microorganisms and Industrial Processes. WhiteFeather will commence a PhD specializing in Bio-art at the University of Western Australia in January 2019.
//
FR
WhiteFeather est un artiste/chercheur, éducateur, consultant et écrivain canadien actuellement basé à Québec.
WhiteFeather s'est engagé professionnellement dans une pratique artistique (bio)artisanale depuis plus de 18 ans, par le biais d'une recherche continue sur le potentiel fonctionnel, esthétique et technologique des matériaux corporels. Ses œuvres rassemblent différentes approches médiatiques, telles que les méthodes textiles, la biologie, la narration (vidéo, audio et texte), la performance, l'intervention publique, les installations numériques + web et l'électronique du bricolage.
Le travail de WhiteFeather a été très varié, allant de l'utilisation des cheveux humains dans la construction textile, à la taxidermie malhonnête de sculptures molles de chair et d'os trouvés, aux représentations numériques/culture pop du corps absent dans le monde numérique. Ses travaux les plus récents, qui couvrent les quatre dernières années et englobent plusieurs résidences d'artistes en laboratoire, portent sur l'expérimentation biotextile par la création de nouveaux matériaux vitaux par le biais de l'ingénierie tissulaire pratique et de procédés microorganiques pour les applications textiles. Pirater le laboratoire et négocier la bureaucratie institutionnelle fait partie de la matérialité de son travail.
WhiteFeather est un lauréat de plusieurs prix et récipiendaire d'une subvention, détenant une maîtrise en beaux-arts en fibres et pratiques matérielles de l'Université Concordia. Elle est chercheuse principale et technicienne du laboratoire de Speculative Life BioLab au Milieux Institute for Arts, Culture and Technology de l'Université Concordia et artiste en résidence au Sporobole centre en art actuel/ Université de Sherbrooke avec son collaborateur, le Dr Denis Groleau, titulaire de la Chaire de recherche du Canada de niveau 1 sur les micro-organismes et les procédés industriels.
WhiteFeather a montré et exécuté des œuvres au Canada, aux États-Unis, au Danemark, en Allemagne, en Islande, en Australie et en Finlande et a été présenté dans de nombreux magazines et revues internationales, journaux, livres d'art à couverture rigide, blogues, vidéos et spots de télévision.