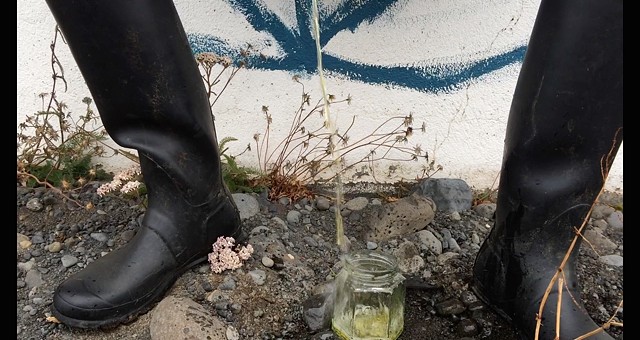 Stay tuned for a new website with current work, forthcoming. Please view recent content by clicking on the News section.
Français suit la version l'anglais//
EN
WhiteFeather is a Canadian artist/researcher, educator, consultant and writer currently based in Montreal.
WhiteFeather has been professionally engaged in a craft-based (bio)art practice for over 18 years, via an ongoing material investigation of the functional, aesthetic and technological potential of bodily materials. Her works coalesce various media approaches, such as textile methods, biology, storytelling (video, audio and text), performance, public intervention, digital + web-based installations and DIY electronics.
WhiteFeather's work has ranged widely, from the utilization of human hair in textile construction, to rogue taxidermy soft sculptures of found flesh and bone, to digital/ pop culture representations of the body absent in the digital world. Her most recent work, spanning the last four years and encompassing several laboratory-based artist residencies, is on biotextile experimentation through the creation of new vital materials via hands-on tissue engineering, and through microorganic processes for textile applications. Hacking the laboratory and negotiating institutional bureaucracy is part of the materiality of her work.
WhiteFeather is a multiple-award winner and grant recipient, holding an Master of Fine Arts in Fibres and Material Practices from Concordia University. She is Principal Investigator and Technician of the Speculative Life BioLab at the Milieux Institute for Arts, Culture and Technology at Concordia University and Artist-in-Residence at Sporobole centre en art actuel/ Université de Sherbrooke with collaborator, Dr Denis Groleau, Tier 1 Canada Research Chair in Microorganisms and Industrial Processes.
WhiteFeather has shown and performed work in Canada, USA, Denmark, Germany, Iceland, Australia, and Finland and has been featured in multiple international magazines and journals, newspapers, hardcover art books, blogs, video and television spotlights.
//
FR
Montréalaise d'adoption, la Canadienne WhiteFeather Hunter a plusieurs cordes à son arc: artiste, chercheuse, enseignante, consultante et écrivaine. Depuis quinze ans, elle s'adonne professionnellement au bioart. Fondée sur l'artisanat, sa pratique s'appuie de fait sur l'analyse matérielle du potentiel artistique, fonctionnel et technologique des matières corporelles. Son œuvre se déploie tous azimuts : de l'utilisation de cheveux aux fins de techniques textiles traditionnelles au recours à une taxidermie à l'état brut dans la confection de sculptures en lambeaux de chair et fragments d'os trouvés, en passant par des représentations – inspirées par les cultures pop ou numérique – d'un corps absent de l'univers technologique. Depuis trois ans, elle se captive à l'expérimentation des biotextiles et à la conception de matériaux névralgiques. À cette fin, elle a effectué quatre résidences de recherche en laboratoire, durant lesquelles elle a notamment exercé l'ingénierie tissulaire.